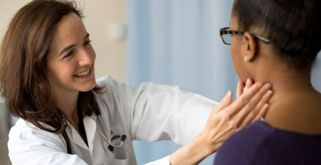 All categorical and primary care house officers regularly care for their own patients in our Division of General Internal Medicine outpatient practice — GW Medical Faculty Associates. The practice is located one block from GW Hospital and contains many outpatient medical and surgical subspecialty clinics under one roof.  Continuity clinic is structured to prioritize longitudinal relationships for continuous management of chronic disease. With graduated responsibility, residents perform all functions of a primary care physician for their patient panel.  Our residents care for diverse patients, many of whom have complex medical and social needs, and others who are young and healthy and just need regular check-ups!
Continuity clinic is a great way to build a mentoring relationship with an attending physician, with whom each resident is paired for all 3 years of residency. It also provides the opportunity for practice-based learning, as residents analyze performance outcomes for their own patient panel and implement systematic changes for quality improvement. This is facilitated by our Quality Improvement & High Value Care curriculum, in which house officers participate regularly during each ambulatory week.  
Finally, our educational half-day during each ambulatory week ensures that all residents are well trained in outpatient general internal medicine.
Our goal is to ensure that all graduates of our residency program are well-qualified to pursue careers in primary care if they choose, and that those who choose to subspecialize have the outpatient skills they will need throughout their careers.