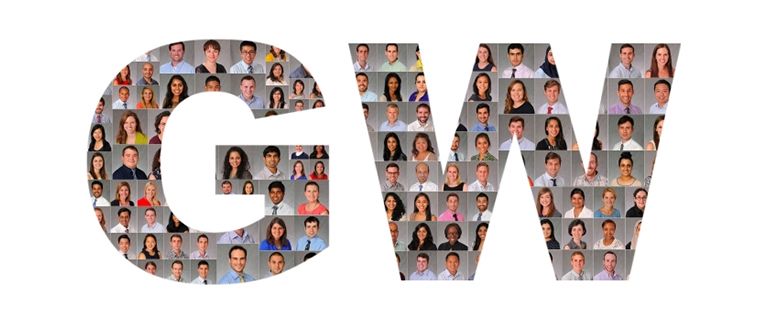 Our program has 108 highly qualified interns and residents. We pride ourselves on the diversity of our house officers, not only in terms of race, ethnicity, gender, and geography, but also in terms of academic and career interests. Most of us would say a leading strength of our program is the quality, diversity, and spirit of our residents — we learn from each other every day, and smile while we're doing it!
Alumni of our program are:
Practicing physicians (including primary care, hospitalists, academic general internal medicine, specialists across all major medicine subspecialties, rural/urban/underserved physicians)
Medical educators
Grant-funded physician-researchers
Medical information technology specialists
Physician leaders (including medical directors, department leaders, medical school administrators)
Public health specialists (CDC Epidemic Intelligence Service, global health physicians, experts in health policy, human rights advocates, leaders of community health centers)
Our current medicine house officers graduated from these medical schools:
AT Still University School of Osteopathic Medicine 

· Sowmya Swamy

Rowan University School of Osteopathic Medicine

· Adam Jacob

· Michael Bourne

Alfaisal University

· Leen Raddaoui

- Lama Raddaoui

Rutgers New Jersey Medical School

· Erica Jalal

· Omowunmi Adedeji

· Eison De Guzman

· Melissa Notis

Campbell University

· John Gracely

· Christopher Walker

Sackler School of Medicine

· Leor Needleman

Charles E. Schmidt College of Medicine

· Max Egers

San Juan Bautista School of Medicine

- Andrea De Leon Tejeda

Chicago Medical School

· Sabrina Coronel

St. George's University of London

· Geoffrey Ho

Drexel University

· Negin Shahshahan

· Padma Shenoy

· Julia Boland

· Mustafa Hammudi

· Theo Abah

Thomas Jefferson University/Sidney Kimmel School of Medicine

· Shamanta Mostofa

· Nisha Patel

 

Touro College of Osteopathic Medicine

· Akshar Kalola

Eastern Virginia Medical School

· Ezra Lee

- Ankit Patel

Tulane University

· Keanan McGonigle

Edward Via College of Osteopathic Medicine

· Sneha Shah

Tufts University

· Brady Messmer

Florida Atlantic University

· Jose Garcia

Universidad Central del Caribe School of Medicine

· Valeria Martinez

· Giancarlo Colon Ros

Florida International University

· Carly Rabin

- Reema Kola

- Jeffrey Turley

Uniformed Services of the Health Sciences

-Edward Jaffe

 

Universidad Industrial de Santander Escuela de Medicina

· Tatiana Rugeles Suarez

Florida State University

· Junseo Lee

Universidad Nacional Autonoma de Honduras

· Dorys Chavez

Geisinger Commonwealth School of Medicine

· Warren Acker

University of Aleppo Faculty of Medicine

· Seba Ramhmdani

 

University of Buffalo

Ryan Salemme

George Washington University

· Scott Fassas

· Felix Granovskiy

· Trevor Hebenstreit

· Leonel Atencio

· Matthew Rosenthal

· WonSeok 'Will' Choi

· Saadia Nawal

· Catherine McCullum

· Michael Bechera

- Erika Pashai

- Kyle Roche

- Preet Sohal

University of Cincinnati

· Emily Newman

 

University of Colorado

-Elsa Alsawad

 

University of Connecticut

-Ashum Khan

-Purven Parkih

 

Universite Saint-Joseph Faculte de Medecine

-Mei Bou Nasif

 

University of Central Florida

-Alicia Zellmer

University of Dammam College of Medicine

· Mohammad Alarfaj

University of Kansas

· Margaret Pruitt

Howard University

· ChiChi Udochi

University of Massachusetts

· Andrew Boylan

Indiana University

· Faraz Sohail

University of Miami

· Zachary Appelbaum

· Michelle Camp

King Abdul Aziz University

· Malak Alharbi

· Mohammed Abualenain

· Sarah Turki

· Nusaybah Albar

University of North Dakota

· Grant Edland

King Saud University

· Mohamed Bohlega

· Rahma Aldhaheri

University of South Carolina 

· Gavin Truong 

Lewis Katz School of Medicine at Temple University

· Manuel Cabrera

· Anna Ralchenko

· Minnu Suresh

· Jeremy Van De Rijn

- Ashley Govi

University of South Florida

· Niraj Gowda

· Attiya Harit

- George Boghdadi

- Jessica Huang

Louisiana State University

· Shaitalya Vellanki

- Charles deBoisblanc

 

Loyola Univerisity Chicago

- Nony Ekwempu

University of Tennessee

· Daniel Ludi

 

 

University of Texas

· Hayley Rogers

Medical University of South Carolina

· Ian Miller

- Elizabeth Evans

University of Toledo

· Julia Zemskova

Midwestern University Chicago College of Osteopathic Medicine

· Maximillian Lee

University of Utah

· William West

Medical College of Georgia at Augusta University

- Heeyah Song

- Marshall Waller

Wakeforest University 

- Daniel Tuerff

New York Medical College

· Fraulein Li

Yeshiva University

· Adam Horowitz

New York University

· Chike Leigh

Zucker School of Medicine at Hofstra/Northwell

- Claire Valburg

Oakland University

· Jennifer Beckerman

 

Ohio State University

· Catherine Culp

 

Ohio University Heritage College of Osteopathic Medicine

- Adam Rabe

 

Philadelphia College of Osteopathic Medicine

-Justin Canakis

-Jacob Newman

 

Ponce Health Sciences University

· Martin Maldonado-Puebla

 

Quinnipiac University

· Hina Patel

 

Radboud University Nijmegen

· Coen Lap

 
For our recent fellowship match information, please visit our Resident Fellowship Placements page.