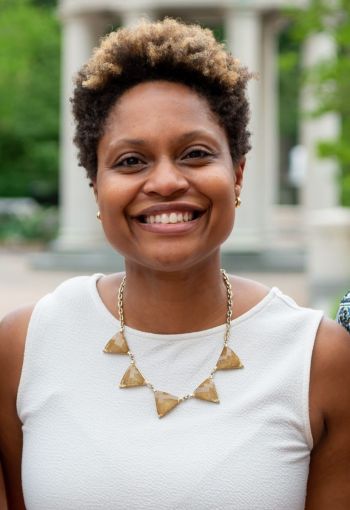 Hello and welcome to GWIMRes!   
A message from the Program Director:
Welcome to #GWIMRes! I am excited to connect with you.  Feel free to explore our site to learn about our amazing residents, patient care, curricular, and research opportunities. We hope you get a glimpse of why we think the GW Internal Medicine Residency Program aka #GWIMRes rocks!
Following our mission to create a diverse physician workforce dedicated to social justice, intellectual curiosity and process-improvement to advance the health of all, our program is intentionally designed to develop well-rounded trainees, equipped with abroad knowledge and skill set across the spectrum of internal medicine.  From special tracks to unique experiences, there are many opportunities to truly tailor your training experience to your personal goals.  We are dedicated to educating the next generation of physicians and our faculty are some of the most brilliant, talented yet approachable clinicians, scholars, and leaders in their field.  We follow a 4+1 schedule(including prelims) of 4 weeks of general medicine wards/ICU/subspecialty rotations with a "diastole week" of clinic and a golden weekend at least every 5th week.    Our unique primary care program is one of the oldest in the country. In the ambulatory year (12 consecutive months of outpatient medicine), residents rotate through medical and surgical outpatient clinics, assisted living facility and participate in home visits. 
We proudly serve and learn from patients from all over the DMV (and world really) and all walks of life, from the historically marginalized and under-resourced to highly insured government officials or diplomats. We see learning about social determinants of health, practicing pro-equity fundamentals, and dismantling racism and other structural barriers to health equity as core principles and as such, strive to integrate these principles into all resident training and patient care. 
Our popular "Underserved Medicine & Public Health (UMPH)" track and HIV track (HIP) are available to all categorical and primary care residents who are interested in more opportunities to enhance their skill set.  Our longitudinal QI and High Value Care curriculum, one of the first of its kind to be implemented, is a highlight of our training program and has served as a blueprint for other programs.  All residents participate in designing, leading and implementing meaningful Quality Improvement projects during their training.  
Our residents are really the highlight of our program – such a smart, fun, compassionate, dedicated, diverse, and cohesive group of individuals!  Our past residents are outstanding clinicians, researchers, medical educators, advocates, and leaders in their field. The vast majority of our alumni still keep in touch with each other and the program, a testament to the lifelong bonds formed and positive impacts of their training experiences.
Training during a pandemic:  We are so very proud of our residents who cared for the vast majority of COVID patients in our hospital sites.  We praise our hospital leadership for consistently ensuring PPE supplies, prioritizing our safety, and communicating new policies and protocols in real time. Our Divisions of Hospital Medicine, Pulmonology and Critical Care, and Infectious Disease led our residents fearlessly, modelling lifelong learning as well as research generation in real time. To combat emotional fatigue, we altered schedules. We preserved conference learning through the use of technology and incorporated Telemedicine into our curriculum as well as patient care experiences.  Finally, we ensured that scholarly opportunities continued for our residents and our residents celebrated numerous accepted abstracts and poster presentations, and published articles and book chapters.  We continue to keep abreast of changes regarding the COVID-19 pandemic and remain flexible, adapting as necessary. Our priority remains to keep our trainees safe & sane as they continue to learn and care for patients. 
I'll admit, I am biased but I am truly honored to work with such an amazing, supportive group of residents and faculty and I am extremely proud of the comprehensive residency training we offer at GW. We recognize justice, equity, diversity, and inclusion as an integral factor in promoting health equity, improving the lives of those we serve, achieving institutional excellence. We continue to use an inclusive framework to recruit and match a residency class that is:
diverse in interests, backgrounds, identities, experiences, & thought;
passionate about learning and growing together; 
cares deeply about our patients, team members, and community; and 
values teamwork and an inclusive, supportive learning environment.
Please familiarize yourself with our program website, take our 360º photo tour and follow us on Instagram @gwimres to learn more about us.  I hope you have a chance to meet some of our residents and faculty for yourself to see what the hype is all about!
Be well,
Chavon Onumah, MD, MPH, MEd, FACP
Internal Medicine Program Director 
General Internist, HIV Specialist, proud mother of 2 boys
#GWProud 
A Note about Virtual recruitment: Out of respect for our residents' time as well as your time, our interview day experience will be as similar to a typical year as possible!  Your interview day will include opportunities to meet residents and faculty, to get more detailed information about our program, and to ask any remaining questions you have but please do familiarize yourself with our website.
An Note about the Supplemental ERAS Application: We opted to participate in the ERAS supplemental application pilot as we see this as an opportunity to allow applicants to share more about themselves/interests, if they choose, that may not be evident in their application. We will maintain our holistic and equitable review of applicants.  The supplemental application is completely optional and our program is committed to ensuring that opting out of the supplemental application does not negatively impact applicants.